Personalized Eye Care
in Moorhead, MN
At Midwest Vision Centers, we've always put the needs of our patients — and their families — first. It was true when we first began as a single-location eye care practice over 40 years ago, and it's true today in each new location as our service areas expand throughout Minnesota and North Dakota.
Our increased reach has allowed us to offer more services to more patients than ever before, and we're proud to still provide a friendly, personal experience to everyone who comes to us for eye care and eyewear.
Trusted Moorhead, MN Eye Doctors
To us, serving our patients is about more than just being experts on eyes. It's also about becoming experts on your eyes. Our team, led by James Connelly, O.D., takes the time to learn about your lifestyle so that we can tailor our eye care solutions to help you accomplish your vision goals.
Midwest Vision Centers – Moorhead
Midwest Vision Center – Moorhead Eye Doctor
Hours of Operation:
Monday: 9:00 AM-6:00 PM
Tuesday: 9:00 AM-6:00 PM
Wednesday: 9:00 AM-6:00 PM
Thursday: 9:00 AM-6:00 PM
Friday: 9:00 AM-6:00 PM
Saturday: Closed
Sunday: Closed
Driving Directions to our Optometrists in Moorhead, MN
We're located at 3206 Easten Shopping Center, Moorhead, MN 56560.
If you're coming from the north, head south on US-75 S. Once you see Sunset Lanes on your left, drive a couple hundred more feet, then turn left onto 4th Ave N. In a half mile, you should turn right onto 30th St N when you see the American Legion on your right. In 0.1 miles, take the second parking lot entrance on your left, and then drive straight until you see us on your left.
If you're coming from the east, head west on US-10 W. After you pass Carpet Garage Flooring Center, Dilworth/Moorhead MN and Dakota Boys and Girls Ranch Thrift Store on your left, continue for about 0.4 miles, then turn right onto 32 St N. Drive straight back until you reach the shopping center, then turn left. We'll be almost immediately to your right.
Proudly Serving Moorhead, MN
At our Moorhead location, we're proud to serve patients in our community, as well as in Dilworth, Fargo, North River, Oakport, Glyndon, Harwood, Georgetown, Perley, Haley, Barnesville, Downer, and other nearby areas.
There's plenty to experience in Moorhead. Whether you're cheering on one of the many local hockey teams, exploring the Midwestern Invitational Exhibition at the Rourke Art Museum, or enjoying theater or music at the Bluestem Center for the Arts, we'll help to make sure you can see everything with healthy eyes and clear vision.
Eye Care Services in Moorhead
At our Moorhead location, our compassionate staff works hard to make sure that all of our eye care services are convenient, affordable, and personalized to your unique needs. Whether you're visiting us for an eye exam, glasses shopping trip, or contact lens fitting, understanding you and your eyes will help us provide you with optimal care.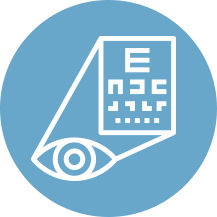 COMPREHENSIVE
EYE EXAMS
MOORHEAD, MN
Regular eye exams are crucial to the mission of healthy, clear vision that lasts a lifetime. We'll cover all the bases, from finding your precise vision prescription for glasses or contacts, to providing screenings for various eye diseases, and even helping you manage any eye conditions you may be facing.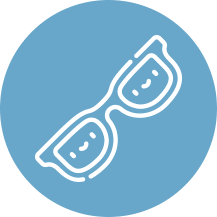 A WIDE SELECTION
OF GLASSES FRAMES
We carry a large selection of different glasses brands and styles, sourced from all over the world. Our opticians are experts. They take pride in helping you find frames that fit your face shape, look, and budget.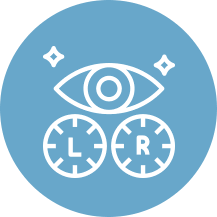 CUSTOMIZED CONTACT LENS
FITTINGS
Many patients come in after having trouble wearing contacts, but that doesn't mean that discomfort shouldn't have to be an expectation. During a contact lens fitting, we'll use some of the most specialized products on the market to fit you with lenses that guarantee comfortable, clear vision.