great care, more designer frames, additional insurance plans accepted, and more!
Personalized Eye Care
in Minot, ND
We're proud to announce that Midwest Vision Centers is now partnered with Shopko Optical, and this location is changing its name from Midwest Vision Centers – Minot to Shopko Optical – Minot. You'll get the same great care from the same local providers and in the same convenient location – but with more frame brands, extended business hours, additional insurance plans accepted, and more services than ever.
Trusted Minot Eye Doctors
The entire team at our Minot Midwest Vision location, led by Wendy Lawson-Kopp, O.D., is dedicated to giving you a memorable eye care experience. From the moment you step into our office, you'll be treated with warm, friendly service, because when you're here, you're part of our family.
We love getting to know more about you — your job, hobbies, and vision goals — because this allows us to give you exceptional care that accounts for your vision needs and your lifestyle.
Midwest Vision Centers now part of Shopko Optical - Minot
Shopko Optical – Minot Eye Doctor
Hours of Operation:
Monday: 10:00 AM-6:00 PM
Tuesday: 10:00 AM-6:00 PM
Wednesday: 10:00 AM-6:00 PM
Thursday: 10:00 AM-6:00 PM
Friday: 10:00 AM-6:00 PM
Saturday: Closed
Sunday: Closed
Driving Directions to our Optometrists in Minot, ND
We're located in the Dakota Square Mall at 2400 SW 10th Street Minot, ND 58701.
If you're coming from the northwest, head southeast on US-2 E/US-52 E towards Sundown Dr. Just after you pass Country Inn & Suites by Radisson on your right, take the exit towards 16th St. Then, take the first left onto 22nd Ave. SW. After the road curves to face the Dakota Square Mall, turn left and take the second right to approach the mall. Enter the mall next to the Barnes & Noble, and we'll be ahead on your right.
If you're approaching from the south, drive north on US-83 N/S Broadway. Just before passing Minot Automotive Center on your right, take a left onto 37th Ave. SW. In one mile, turn right onto 16th St SW. Continue for .8 miles, then turn right onto 24th St. SW to approach the Dakota Square Mall. After passing Target on your right, enter the mall from the north entrance, and we'll be straight ahead, on your right.
Proudly Serving Minot, ND
We at Midwest Vision are proud to serve the residents of Minot, Burlington, Logan, Sawyer, Surrey, Norwich, Ruthville, Watford, Stanley, Willston, and other surrounding communities.
Our team loves to help our patients enjoy all that Minot has to offer with healthy eyes. Whether you're exploring the Scandinavian Heritage Park, checking out the animals at the Roosevelt Park Zoo, or roaming through the Dakota Territory Air Museum, we'll ensure that you can see it all clearly.
High-Quality Minot Eye Care Services
When you visit Midwest Vision, you can rest assured that all your needs will be met in one, convenient location.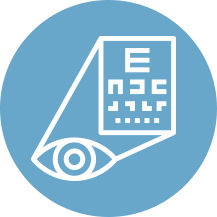 COMPREHENSIVE
EYE EXAMS
IN MINOT, ND
We want to make sure that you can see the world clearly, and that begins with a comprehensive eye exam. During an eye exam at Midwest Vision, our optometrists will update your prescription to the highest degree of accuracy and evaluate your eyes for disease, providing treatment when necessary.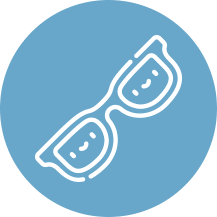 GLASSES FOR
EVERY STYLE
At Midwest Vision, we've traveled the world to find the best frames for you and your family. No matter your face shape or personal style, with our large collection of frames, you can find the perfect glasses, regardless of your budget.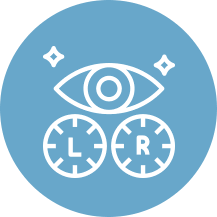 COMFORTABLE
CONTACTS
When you wear contacts, it should feel as if you're not wearing any lenses at all. We carry a variety of contact lens brands and styles so our expert optometrists can find contacts that fit your eyes comfortably and give you clear vision.