Eyeglasses in Minnesota
and North Dakota
At Midwest Vision Centers, we serve all kinds of patients — and with so many different needs, we have to stock a wide range of options for their eyeglass frames. We shop the world to bring the most fashionable and reliable frames to our neighbors in the Midwest.
You'll find eyeglasses for reading, driving, work, and play at our convenient locations across Minnesota and North Dakota, with styles and builds to satisfy all vision needs!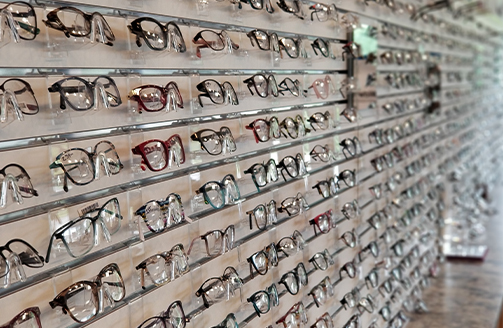 The Importance of Quality Prescription Glasses
You can get glasses from many big chain retailers, but choosing a quick-and-dirty option means giving up comfort and clarity — and the self-confidence that good-looking eyewear brings. After all, what good are a pair of eyeglasses if you don't like to wear them?
We want our neighbors to look and feel ideal, with eyewear that fits their faces and their personalities. Our doctors provide our patients a precise vision prescription, and our opticians help them find frames that will match their fashion style and stand up to all their day's demands.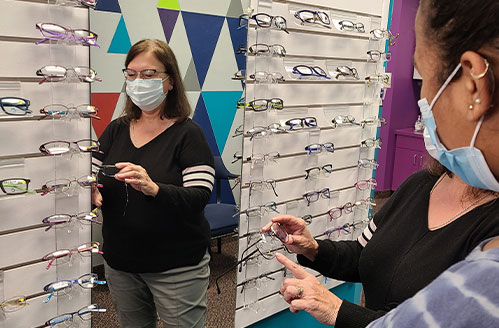 Why Choose Midwest Vision Centers for Eyeglasses?
We're your hometown eyecare option, with the size to deliver the range of services you need. Our opticians are members of the local communities and know all about the vision needs of our neighbors: they'll take their time to get to know you and make sure you're getting exactly what you need from your vision: not just a solution that works okay, but frames that truly suit your lifestyle.
We have eyeglasses and frames to fit everyone's budget and take many different private insurance plans. With brands patients know and trust, like Nike, Calvin Klein®, COACH®, and Ray-Ban®,  we have options to fit your needs — just down the street.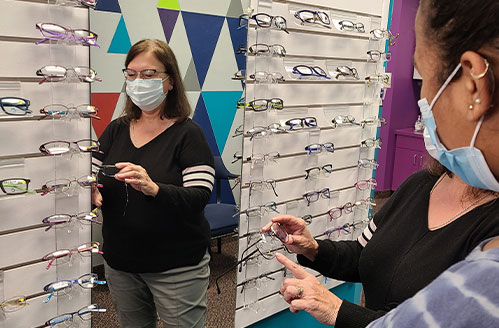 We see the value in gathering a diverse selection of frames from all over the world, with designs that are fashionable, sleek, and dependable, and bringing them home to our communities. Visiting our offices will give you a taste of the larger world of eyewear and let you see — and try on — eyewear options you won't find anywhere else around.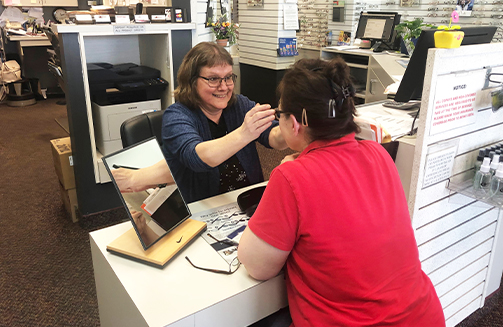 Custom Glasses Lens Fittings
It's important to have eye care pros that know you well, and that extends to our opticians: they take the time to learn about your vision needs and lifestyle right off the bat. We'll match our frames to your face shape, prescription, and personality to find a functional, fashionable fit you'll want to show off. With our selection's size, you won't have to worry about finding eyeglasses that work well for every aspect of your life.
18 convenient locations across minnesota and north dakota