great care, more designer frames, additional insurance plans accepted, and more!
Personalized Eye Care
in Fargo, ND
We're proud to announce that Midwest Vision Centers is now partnered with Shopko Optical, and this location is changing its name from Midwest Vision Centers – Fargo to Shopko Optical – Fargo. You'll get the same great care from the same local providers and in the same convenient location— but with more frame brands, extended business hours, additional insurance plans accepted, and more services than ever.
Our growth has enabled us to provide one-on-one eye care to more people than we would've ever imagined we could. We're proud to serve the families of an ever-growing number of communities, and to treat all our neighbors with the kindness and warmth of a true hometown eye care practice.
Trusted Fargo, ND Eye Doctors
To us, the first step to high-quality eye care is getting to know more about our patients. Our Fargo team is led by Shari Kensok, O.D., and Vanessa Manlove, O.D., eye care professionals who will take the time to learn about you and how you spend your days. This lets us customize your eye exam, glasses selection, or contact lens fitting to address your specific vision goals.
Midwest Vision Centers now part of Shopko Optical - Fargo
Shopko Optical – Fargo Eye Doctor
Hours of Operation:
Monday: 9:00 AM-6:00 PM
Tuesday: 9:00 AM-6:00 PM
Wednesday: 9:00 AM-6:00 PM
Thursday: 9:00 AM-6:00 PM
Friday: 9:00 AM-6:00 PM
Saturday: Closed
Sunday: Closed
Driving Directions to our Optometrists in Fargo, ND
We're located at 3051 25th Street S., Suite L, Fargo, ND 58103.
If you're coming from the west, head east on I-94 E and take exit 350 for 25th St. When Ruby Tuesday is to your right, turn right onto 25th St S. In about 0.8 miles, turn right onto 30 1/2 Ave S, then head straight back into the lot; we'll be just ahead, near Hi-Ho Burgers and Brews.
If you're coming from the south, head north on I-29 N and take exit 62 for 32nd Ave S. You'll see Luther Family Ford to your right along the exit ramp. Keep right at the fork to merge right onto 32nd Ave S. In 0.8 miles, turn left onto 25th St S; you'll immediately see Village Inn on your right after the turn. In about 500 ft, turn left onto 30 1/2 Ave S, and drive straight back. We'll be directly in front of you.
Proudly Serving Fargo, North Dakota
We're proud to serve Fargo, as well as West Fargo, Prairie Rose, Frontier, Horace, Casselton, Oxbow, Davenport, Kindred, Tower City, Mapleton, and our other neighboring communities.
Residents of our community have access to more theaters, museums, golf courses, and cultural centers than they would in most major cities. The selection of sites for fine dining and drinks is impressive, and it has more community and sporting events in the winter than you can shake a hockey stick at. However you spend a charming day in Fargo, we want to make sure you can enjoy it with comfortable eyewear and clear sight.
Fargo Eye Care Services
Whatever brings you in, we'll make sure your service is as friendly and warm as it is professional.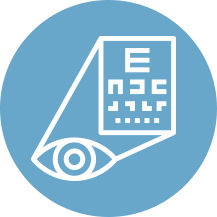 COMPREHENSIVE
EYE EXAMS
IN FARGO, ND
Once our Fargo optometrists have learned a bit more about you, they'll be able to better tailor your exam to your needs. We take care of all the essentials by providing an accurate vision prescription, screening for potential eye diseases, and assisting with management of any eye health conditions you may have.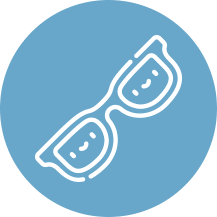 A LARGE COLLECTION
OF GLASSES
We source our frames from across the world to bring you a wide variety of affordable, quality glasses. Our opticians are eyewear experts: they'll help you find a pair of frames that fit your face shape, match your style, and work with your budget.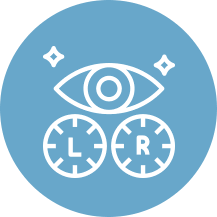 CONTACT LENS FITTINGS
FOR EVERY PATIENT
At Midwest Vision, we've helped countless patients who have trouble fitting contact lenses. Between our large selection of contacts brands and styles, and our precise fittings, we can help anyone find comfortable and clear contact lenses.